Hi, everyone! I wanted to announce that QITM is looking for a few new designers. If you are interested in joining, please send me an eBay message.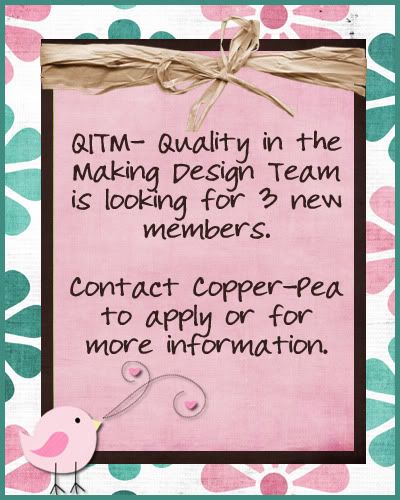 A little about our group:
QITM [Quality in the Making] Design Team recently celebrated our two year anniversary. We specialize in handmade papercrafted items. We are a close-knit group and are hoping to add 3 more members. QITM does have a few qualifications we require from candidates.
A few of the qualification requirements are:
- Feedback score of at least 20, with at least 10 feedbacks in scrapbook/card/altered item/paper piecing.
- Feedback rating of at least 98%
- Must list at least 3 scrapbook/card/altered item/paper piecing listings each month.
- Must post in the group area at least once a week.
Upon acceptance, there is still a 30 day trial period so we can see how well the fit with the group.